11 Overwhelming Promises of God Found in the Bible
My personal journey on how I relied on the promises of God to get me through a tough season.
When you are on the mountain top it's easy to see God as good. Worship doesn't feel like a chore. You gladly enter His gates with thanksgiving. But what happens when we are in the valley? When life is hard and we can't see the light at the end of the tunnel. When you don't feel like you can worship.
Almost two years ago I faced a challenging time dealing with my physical health. I was uncertain of how things would turn out and I worried about the worst case scenario.
As the months went on I slowly realized I was in the valley. Within 3 weeks we were in the ER 3 times, one time included a two night stay in the ICU with our son.
In a span of a couple of months we had the flu, RSV, a car accident, lice and I'm sure other things that I just can't remember right now.
I'd be lying if I didn't say it was testing my faith! Why was this happening? Where was God in all this? How could this possibly be used for His glory? Fear started creeping in.
Now that I'm in a different season I can look back and see His hand at work. He is amazing. Through the valley He sustained me. He carried me. He truly became my rock.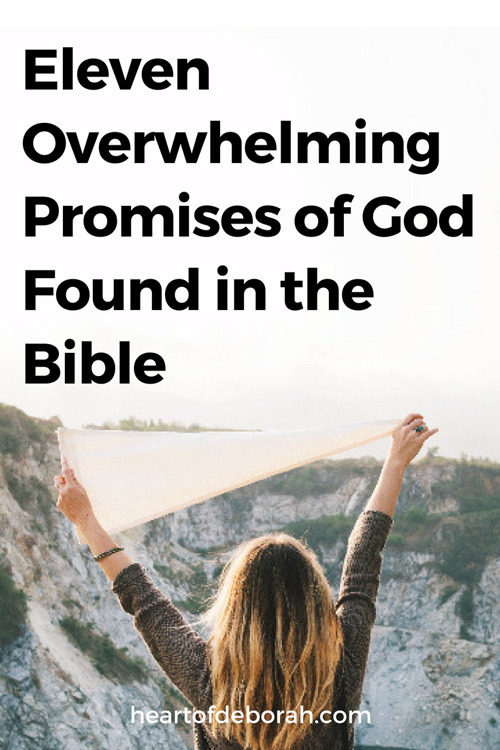 Though I'm still waiting for my physical breakthrough I've found peace and comfort in God's word. When I rest in His promises fear flees.
In the valley I found scripture to comfort my soul. I NEEDED to know in my heart that God cared for me. That He didn't forget me and none of this was a surprise to Him.
So here is a list of 11 overwhelming scriptures I meditated on during the tough seasons. They are filled with the promises of God.

ONE:
Remember the former things of old, For I am God, and there is no other; I am God, and there is none like Me, Declaring the end from the beginning, And from ancient times things that are not yet done, saying, "My counsel shall stand, And I will do all My pleasure," Isaiah 46:9-19 NKJV
My commentary: God has the final say. The enemy may initiate things and start things to steer you off course or make you doubt, but God knows the beginning from the end. His purposes will be accomplished no matter what.
TWO:
Don't be afraid, for I am with you. Don't be discouraged, for I am your God. I will strengthen you and help you. I will hold you up with my victorious right hand. Isaiah 41:10 NLT
My commentary: One of my all time favorite verses! He is holding you up right now with HIS victorious right hand. The battle is already won and we are on the winning side. Do not be discouraged, God has overcome every sickness, disease and lie of the enemy.
THREE:
Even to your old age and gray hairs I am He, I am He who will sustain you. I have made you and I will carry you; I will sustain you and I will rescue you. Isaiah 46:4 NIV
My commentary: God knit you together in your mother's womb. He created you perfectly and He will sustain you throughout your lifetime.
FOUR:
Being confident of this very thing, that He who has begun a good work in you will complete it until the day of Jesus Christ. Philippians 1:6 NKJV
My commentary: Nothing can take you from God's hands. Be confident of this, He is faithful to finish what He started.
FIVE:
God is our refuge and strength, A very present help in trouble. Therefore we will not fear, Even though the earth be removed, And though the mountains be carried into the midst of the sea; Though its waters roar and be troubled,Though the mountains shake with its swelling. Selah
There is a river whose streams shall make glad the city of God, The holy place of the tabernacle of the Most High. God is in the midst of her, she shall not be moved; God shall help her, just at the break of dawn. Psalms 46:1-5 NKJV
My commentary: This is right before the verse be still and know that I am God. How interesting that the psalmist spoke of God's strength right before we are instructed to be still. We must trust and believe that God will move on our behalf.
SIX:
Be strong and courageous. Do not be afraid or terrified because of them, for the Lord your God goes with you; he will never leave you nor forsake you." Deuteronomy 31:6 NIV
My commentary: When faced with a difficult task I often quote "I am strong, courageous and firm. I will not fear or be in terror for the Lord my God goes with me"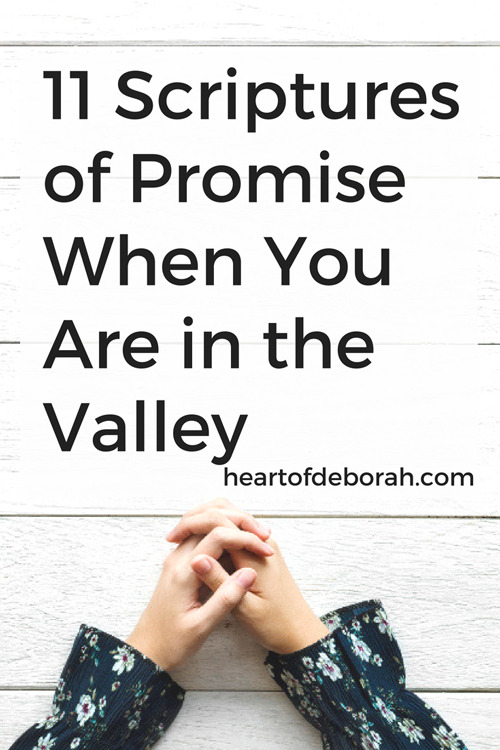 SEVEN:
He will cover you with his feathers, and under his wings you will find refuge; his faithfulness will be your shield and rampart. Psalm 91:4 NIV
My commentary: Rest in Him. When you are resting in His shadow no harm will overtake you (verse 10). He will cover you. The Lord is sovereign over everything. He will keep you from harm. Rest on the promises of God!
EIGHT:
And if God cares so wonderfully for wildflowers that are here today and thrown into the fire tomorrow, he will certainly care for you. Why do you have so little faith? Matthew 6:30 NLT
My commentary: One of the biggest struggles in the valley was trusting that God knew what He was doing. But His ways and His thoughts are so much higher than mine. Trust and believe that God cares for you!
NINE:
My brethren, count it all joy when you fall into various trials, knowing that the testing of your faith produces patience. But let patience have its perfect work, that you may be perfect and complete, lacking nothing. James 1:2-4 NKJV
My commentary: Wow this one is tough to swallow sometimes! But what would happen if we rejoiced anyway? Praise is a weapon! He is making you more like Christ and refining you so perfectly. In the end, you will lack nothing.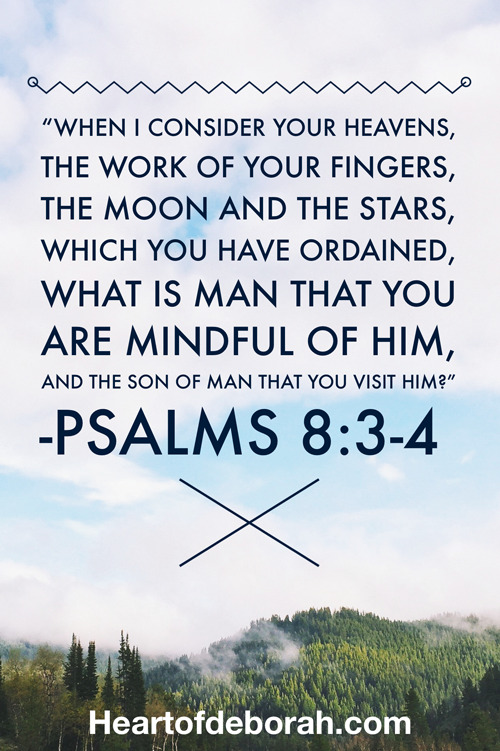 TEN:
When I consider Your heavens, the work of Your fingers, the moon and the stars, which You have ordained, What is man that You are mindful of him, and the son of man that You visit him? Psalms 8:3-4 NKJV
My commentary: How great is our God that He spoke the galaxies into being? He spoke the stars into existence. He is able to do the impossible. Whatever difficulty you are facing is no match for our great God!
ELEVEN: The righteous person faces many troubles, but the Lord comes to the rescue each time. Psalms 34:19 NLT
My commentary: Unfortunately as believers we are not exempt from trouble or trials. BUT God has promised that He will always be with us and He will come to our rescue each and every time.
Resting on the Promises of God
Finally, I pray you find rest and peace in these scriptures whether you are in a season of joy or sorrow. Print them out, write them all over your house. Claim and pray the promises of God over your life. Meditate on His word. He is faithful to the end!
So what about you, what are your favorite promises in the Bible? I'd love to hear from you in the comments below.
Be sure to stay connected on Facebook for more daily inspiration and encouragement.
What is your favorite scripture on God's promises?