Prayers for True Friendship
"Being a mother is learning about strengths you didn't know you had, and dealing with fears you didn't know existed." This quote is from Linda Wooten and it perfectly describes the struggles and joys I have felt as a mother.
I never knew how much I would worry about our kids! "Are they being nice to other friends at school? Are friends treating them fairly? How are they getting along with others?"
All these thoughts have crossed my mind at one point or another. We can sit and worry all day or we can do something about it. As a mother the one thing I know, is that prayer for our children makes a difference!
That is why I am intentional about saying prayers for true friendship for my kids. Though they are young, it's never too early to start praying.
I often pray for their sibling relationship, but I want to start saying a daily prayer for true friendship. We are created to be in relationship with others and friendships make a huge difference in our lives.
Below I've outlined a way for you to pray and I give you examples of specific prayers for our children.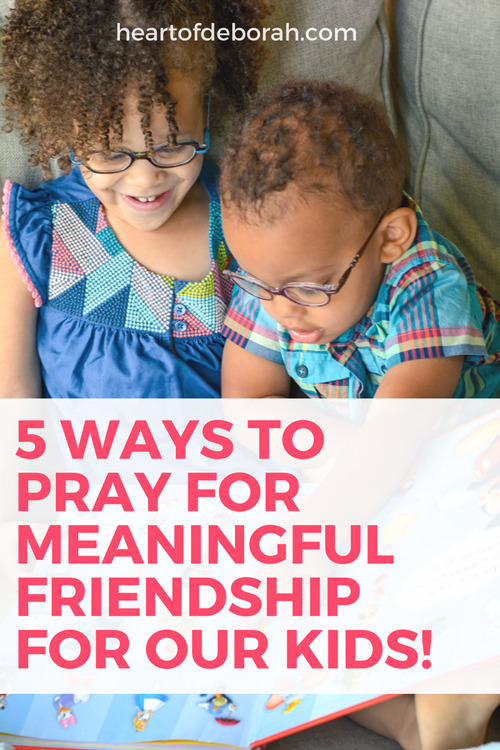 Prayer for True Friendship: 5 Examples
Prayer for Our Children to Be Loving Friends:
Do to others as you would like them to do to you. Luke 6:31 (NLT)
Dear God please give my children hearts of compassion. Help them to see situations from every perspective and to treat others like they would want to be treated. Give them a friendly and kind spirit. May they welcome friends with a smile.
Prayer for Our Children to be Filled With Compassion:
This is my commandment: Love each other in the same way I have loved you. There is no greater love than to lay down one's life for one's friends. John 15:12-13
Heavenly Father help my child to first love you with all his heart and then to love his friends in the same way you love us. May the joy of the Lord radiate through him. Help him to share your loving kindness with his friends.
Prayer for Wise Friendships:
Walk with the wise and become wise; associate with fools and get in trouble. Proverbs 13:30
God I pray my children would be wise when choosing friends. Give them discernment to find true friends and help them to build each other up. Give them the ability to say no when necessary and bravery to stand up for what is right.
Prayer for True Friendship:
There are "friends" who destroy each other, but a real friend sticks closer than a brother. Proverbs 18:24
Heavenly Father help my children to find true friends. Reliable friends who will treat them like family. Also help my children to be true friends who love and respect their peers. May they be there for their friends in times of need.
Prayer for the Ability to Accept Correction:
Get all the advice and instruction you can, so you will be wise the rest of your life. Proverbs 19:20
Dear God help my children to accept instruction and give them the desire to learn from the wise. May they seek wisdom from others and discern what advice from friends they should listen to and follow.
Say A Prayer for Our Children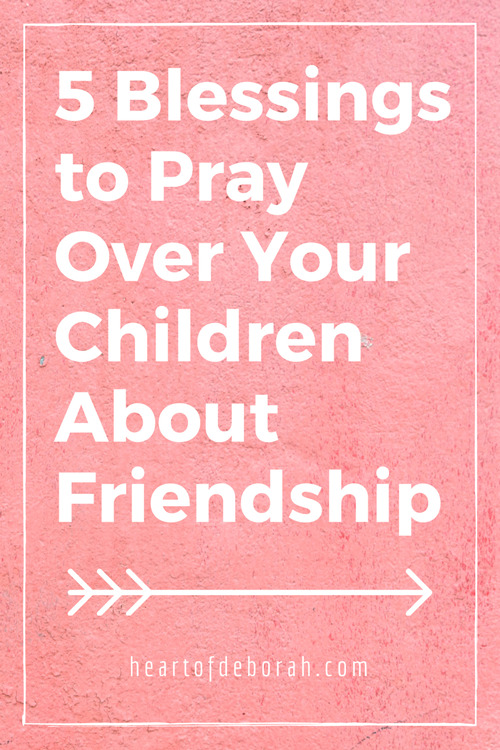 Do you prayer for your children's friends? What have you found helpful when covering your kids in prayer? I'd love to hear from you in the comments below.
Be sure to follow Heart of Deborah on Facebook and Instagram for more Christian parenting.