Summer Clothing to Flatter a Post-Baby Body
Finding the right clothes to flatter your body type can make a big difference in your confidence! I'm still trying to embrace my post-baby body and although I'm working toward getting fit again I believe it's so important to know what clothes fit my body right now. I feel discouraged when I look in my closet and think "I have nothing to wear" because I don't like how anything fits. I recently went through my closet and got rid of a lot of those clothes!
As a mom with two small kids I don't always have the time to go shopping for myself or take an hour to do my hair and make-up. That doesn't mean I have to sacrifice taking care of myself and feeling good in my skin! Summer is approaching and if I'm being honest, I'm more self-conscious of my body in summer clothes. This spring I was on a mission to find clothes that flattered my post-baby body. Today I'm sharing three outfits with you perfect for warmer weather.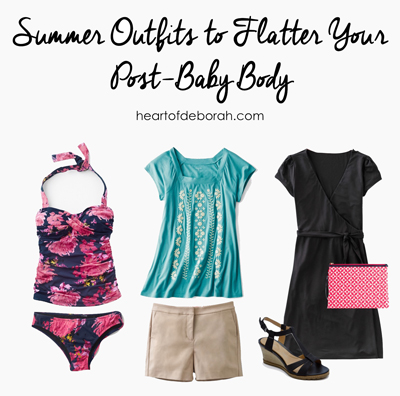 Swim Wear: Day at the Beach
My family loves to swim and it's one of my favorite parts of summer. Before I had kids I was never completely comfortable in a bikini. I've always had a thing for tankinis! This summer I wanted to find a bathing suit that was stylish and one I felt comfortable wearing. Halter tops with a sweetheart neckline look best on my body. I found the perfect suit at Garnet Hill, the ruched halter tankini. The twist at the neckline and the ruching on the sides gives it a flattering fit. I have the Navy Mums print. This bathing suit is feminine and stylish. It covers all the right spots!
Day Outfit: Park Play Date
I've found a-line shirts are great for hiding any extra fullness around the belly area. I wish I could say I have none, but if I'm being honest I still have some post-baby pudge. If you naturally have an apple body shape, a-line jackets and shirts are great for you. This embroidered top from Garnet Hill is the perfect summer shirt. It's flowing (forgiving) and it has the cutest flutter sleeves. I pair it with my favorite dark wash jeans or longer shorts. I prefer shorts with a 6 inch or 9 inch inseam. My favorites are the riviera shorts from Loft and the richmond shorts from Boden
.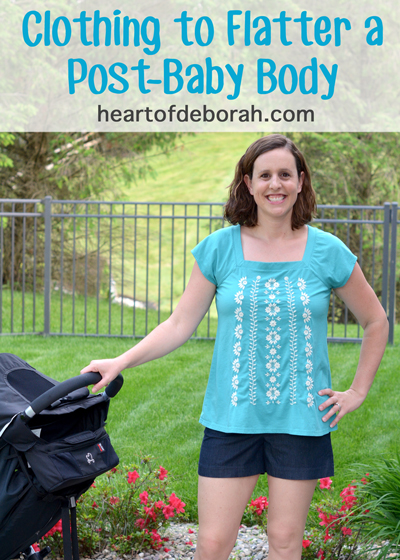 Night Time: Dinner Date
I've always heard the color black is slimming. Color expert, Maria Killam, believes black is slimming because it hides all the shadows that are created by lumps and bumps. So if you want to hide your lumps and bumps choose a black top or dress. I found a summer wrap dress from Boden
that compliments my post-baby body and I can nurse in it, double win! It cinches at the waist and has a semi-fitted shape. I've found semi-fitted clothing is the perfect balance. You don't want something too tight, showing all your bumps and at the same time you don't want something too lose because it can actually make you look wider. A little black dress is the perfect summer date outfit! Lastly, if you want to create a longer, leaner look add some height. I love these t-strap sandals from Rockport. I've shared my experiences with embracing my height in heels before. For whatever reason heels just make me feel more confident!
How do you get back your confidence after having a baby? Do you find a certain style is best for your post-baby body? I'd love to hear from you in the comments below!
Disclosure: I received a top from Garnet Hill to review for this post. As always the opinions expressed are 100% my own. This post also contains some affiliate links.